Anyone can speak! Keynote
A 45-60 minute keynote presentation that highlights the necessity of communication and connection to influence an audience to take action and move forward. Attendees will come to understand the speaking skills essential for every leader, how to connect with others and keep them engaged, the power of stories, and why it is important for leaders to continue to develop their speaking skills.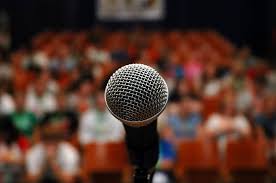 Outlines of the Anyone can speak Keynote
Together we will answer the following questions:
How do we learn?
What does has the most influence in communication?
Are there natural speakers?
How the keynotes of the world's best speakers are build?
What keeps my audience on the edge of their seat?
In this 45-60 minutes interactive session we will work through 4 exercises that will illustrate the points shared.
Benefits of the Anyone can speak Keynote
At the conclusion of the training you will:
Understand how we learn new skills
Identify what makes a world-class speech
Work out how to have more influence in public speaking
What makes our audience stay on the edge of their seat