Critical Work Effectiveness Skills
This unique Critical Work Effectiveness Skills course has been designed to deliver, in just 2 days, a complete set of methods, tools, techniques and skills that will make everyone much more effective at work.
We have combined elements of consulting skills, project management, communications, decision-making and problem solving to create a totally unique and exciting package suited to all staff members and managers. This fun and highly participative course includes hands-on exercises, case studies, self-awareness, teamwork and role plays.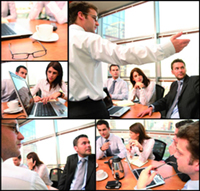 Outline
- Introduction and objectives
- Self-awareness – individual profiles, types, styles and needs
- Active listening and discovering real needs
- 10 Problem Solving methods – and when to use them
- Documenting a terms of reference and a proposal
- Good business writing practices
- Good presentation practices
- Influencing styles

Benefits
At the end of the course, you will be able to:
• Identify and apply effective behaviors in business relationships
• Use techniques and templates to determine problems and potential solutions
• Define and plan an activity or project for approval
• Document and present your proposals
• Use active listening and problem solving skills to listen to internal or external client requests and ask key questions to help clients discover their real needs
• Use different influencing styles